A couple of weeks ago, the NSW Government launched "Parents NSW Vouchers", to reward and thank eligible NSW households for their efforts to support learning from home in 2021.
How to use your vouchers with Exclusive East Tours
Both the Discover and Parents NSW vouchers can be used on tour from Exclusive East Tours.
Each eligible household can apply for 5 x $50 vouchers, worth $250 in total. These vouchers are valid until 9 October 2022.
Once you've applied for the vouchers through the Services NSW website or app, you will find them under the "Vouchers" tab.
This is in addition to the "Dine & Discover" vouchers which were released last year, and can still be used up until 30 June 2022. You can use your $25 "Discover" vouchers on any of our tours. "Dine" vouchers can only be used at restaurants, cafes, bars etc.
As our website is not linked with the Services NSW website, you won't be able to put the actual voucher code into our website. Instead, you should use the promo code "DDNSW" if you'd like to use a "Discover" voucher to get $25 off, or use the promo code "PARENTSNSW" if you'd like to use a "Parents NSW" voucher to get $50 off.
Then on the day of the tour, we'll scan your actual voucher from your Services NSW app (or printed out). Please make sure you have your voucher ready on the day of the tour, because if we can't scan it, we don't get money from the NSW government.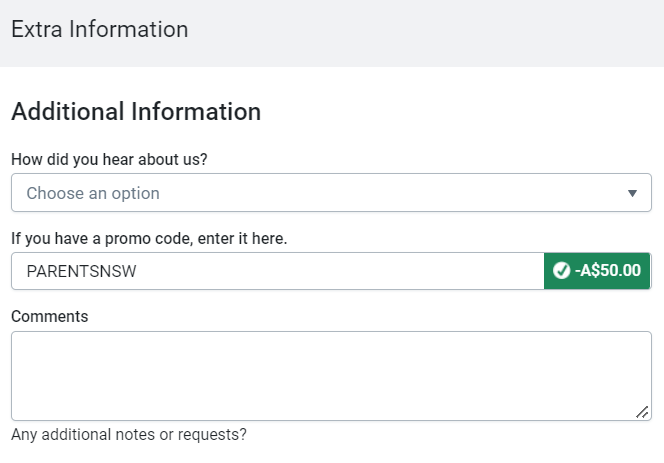 If you'd like to use more than one "Parents NSW" voucher, please contact us using the contact form or on Instagram. We'll get in touch quickly and set something up so that you can use more than one voucher. If you're ready to book, choose your tour now to confirm your attendance!
As the Services NSW website is not designed well for finding tour operators that accept the vouchers, we've prepared a shortlist of some of our favourite tour companies that currently accept Discover and Parents NSW vouchers.